---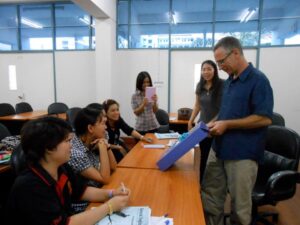 Stuart Coward is English. He lives in a picturesque village near Exeter. As an English teacher, he has worked with students from all over the world. He lived in Thailand for several years managing a language school and teaching. Since he came back to the UK he has taught English for Academic purposes to international university students in Newcastle. Apart from teaching, he knows how to build a house, mend a fence and take care of a farm.
---
Poland United Kingdom – Cultural Differences with Stuart Coward
Event type: Workshop
Facilitator: Stuart Coward
Age: 9-18
Level: Elementary / Pre-intermediate / Intermediate/ Advanced
Time: 60 min.
* On demand contents, level and timing can be tailored to groups' needs.
In this 40-minute online session, we will look at the cultural difference between Poland and the UK and their similarities. We will find out what we have in common and what is different. Do we have similar lifestyles? Do we do the dishes the same way? How do we like our pancakes or tea? How do we celebrate? Some differences are obvious, such as driving on the right or driving on the left, but some are not. This session, although structured, will rely on students' contributions and a true information gap, as Stuart has never been to Poland though is planning to visit. So, mostly a Q&A format, and a chance for students to speak.