---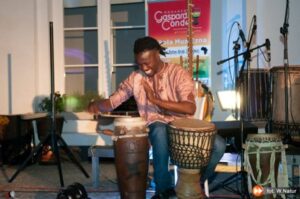 Ablaye Badji is a multi-instrumentalist, a member of the griot family – Cissoko. He was born and grew up in Ziguinchor, Senegal. Surrounded by the cultural and musical richness of his ancestors, Ablaye began his musical education by gaining an in-depth knowledge of traditional instruments such as djembe, sabar and seourouba. However, his love for kora was visible to him at an early age.
Ablaye is now based in Poland, where he's performing & teaching djembe drumming. Djembe is a powerful instrument that brings people together to live in peace, love, and respect each other.
---
DRUMMING IN ENGLISH
Event type: Workshop
Facilitator: Ablaye Badji
Minimum age: 7+
Level: Elementary / Pre-intermediate + / Intermediate / Upper-intermediate
Time: 60 min.
This workshop was the most popular session we have ever organized, ever!, as part of the EU-funded workshops for Warszawa Ursus Schools. 44 groups of students taking part in 2022 said Ablaye was the best. It must be the drums and Ablaye's energy. It must be the fact that regardless of level, and possible language barrier, workshop participants just get it, and are motivated and energized. These unique sessions have the power of bringing groups of people together through rhythm, music, and laughter. If you want to reward your students for their hard work, Drumming in English makes a perfect (Christmas) outing.
At the beginning, you will get to know the instruments we play. In the next step, we will play rhythm explorers and guess rhythms after a few sounds are played. Singing and body drumming are other points of our program. We will end the journey with a sequence of playing djembe drums, and other percussion instruments as well as clapping. However big the group, all will be involved.