---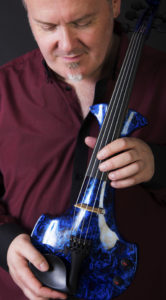 Steve is coming back to Poland after a few years. In 2010 his workshops were seen by students as by far the most exciting and unusual workshops by NaukaBezGranic. Undoubtedly one of the most musically diverse violinists in the world today, Steve Bingham is internationally renowned for his work as leader of the Bingham String Quartet and for his solo recitals on violin and electric violin with live-looping. Steve's musical interests have also seen him leading many well-known orchestras, working as a conductor for several amateur orchestras and ensembles, recording for a variety of artists and playing live with rock bands and more! He has recorded four solo albums and featured on many more CDs both classical and pop.
---
A Short History of Britain through Music
Event type: Workshop
Facilitator: Steve Bingham
Minimum age: 10 – 17
Level: Elementary / Pre-intermediate / Intermediate
Time: 60 min.
* On demand contents, level and timing can be tailored to groups' needs.
A very unique opportunity to learn out about the major historical events in the British history through music. In this session, Steve uses his violins to perform music from the 15th century to the present day and link it to events that happened at the time the music was composed. This exciting progression through the ages puts music from Britain into a historical context in a unique way.
---
Bach, The Beatles and a Blue Violin
Event type:
Workshop
Facilitator:
Steve Bingham
Minimum age:
10 – 17
Level:
Elementary / Pre-intermediate / Intermediate
Time:
60 min.
*
On demand
contents, level and timing can be tailored to groups' needs.
A true music lesson in English. Something your students will remember for a very long time. Steve uses violin, electric violin and a variety of technology to bring a fascinating range of music to life. He explains how the music came about, and how old and new can blend together. Music in this session will include pieces by Bach, Debussy, The Beatles, Daft Punk, Philip Glass and more.